When I was a little girl I often sat in my room – drawing. After years of school I almost stopped completely. Do not know if I had too much demands on me that I did not think I fulfilled or if the time was not enough … Interest might just fall: -?
When I then took all the computer courses it was fun to work with graphics in the computer.
If there was a line that ended up in the wrong place or if a background color was wrong, then you could just "delete" or go back in the history and try again. Still I enjoy working on images or graphics in the computer. There are so many fun drawing software and something many are not aware of is the possibility to draw in a computer software like
Microsoft Word
which is actually specifically aimed at text processing.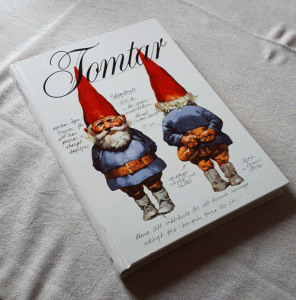 But now for Christmas 2018 I got a look at my old book "Gnomes" – Tomtar in Swedish – and the desire to draw with pen in hand and paper in front of me woke up again!
The book Gnomes by Wil Huygen – lyrics and Rien Poortvliet – images, is a very enjoyable book (filled with beautiful illustrations) that is about just gnomes. It describes in words and pictures their lives and living. It is a suitable book to browse in at christmas but you should not, however, confuse the red-dressed Santa Claus, who comes on Christmas Eve or Christmas Day with packages for all kind children, with the book's gnomes. These gnomes are almost forgotten creatures that now live a retreated and unnoticed life. In the past, the gnome was a community member who was seen everywhere by everyone. They were a kind of servants who were best at keeping abreast of them, so that they would take good care of the animals and the people on the farms.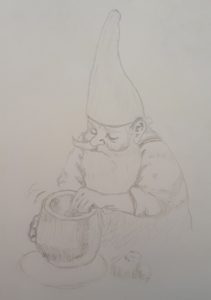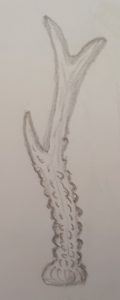 There are several kinds of gnomes:
Beech gnomes
Garden gnomes
House gnomes
Yard gnomes
Siberian gnomes
and then there are forest gnomes and that's what this book is mostly about. The forest gnomes lives under the trees in a house they built in the paths and nests of rabbits and other animals. They help and take care of the animals in the forests. They have som trouble with the trolls who are constantly trying to harm, hunt and catch the gnomes. Thanks to the wisdom of the gnomes, they usually manage, but sometimes it can go really bad as you can see in the movie: Witchcraft in the Forest Land. The film was made with this book as a model.
Finally, one can ask whether there are gnomes or not?
It is up to each one what to think, but I am pretty sure that there is much more than what we see and can explain.
With an open mind, you can be amazed by all you get to see and experience…